Synthetic grass DIY projects can be fun! and we have outlined below instructions to further clarify the process for you.
If the area is more than 25m2 you may not feel up to installing larger areas yourself, then please complete our contact us form and we can arrange an installation quotation.
If the area is more than 25m2.  Ensure you complete your name, address, email, phone number photos of the area and access into the area.  Once we have this information, we can then provide an estimate and if you wish to proceed further with our firm we can then arrange for a consultant to meet with you on site to finaslise the quotation.
Commonly used Materials and Tools to complete your task.
Commonly Used Tools                                                          Materials Required for Installation
✅ Your choice of artifical grass                                                  ✅ Single sided backing tape
✅ Turf Rake                                                                                   ✅ Mineral Infill
✅ Sand/seed spreader (or shovel)                                            ✅ Flat head nails
✅ Compactor/vibrating plate                                                    ✅ Crushed rock 20mm with FCR 5mm (Fine Crusher Dust)
✅ Stanley knife
✅ Shovel
✅ Wheelbarrow
✅  Tape measure
✅ Wide Bristled broom
✅ Yard Rake
Installation: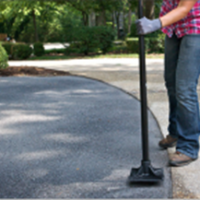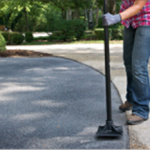 Prepare The Base
Excavate the area to a depth of 80mm. Lay 80mm of crushed rock/road base and compact it with a vibrating plate. The level of crushed rock/road base when
compacted should be 15-20mm below "finished height" of surrounding edging/paving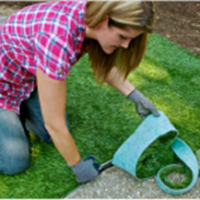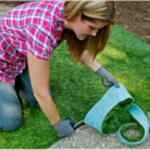 Laying Your Artifical Grass
Australian Industry Standard Roll Width is 3.71m wide x your required length.  At this point in time it is important you ensure the pile of each run are facing the same way or same direction.  Trim off cut or salvage from the sides of grass.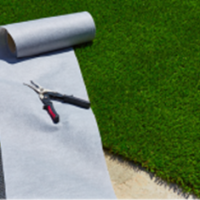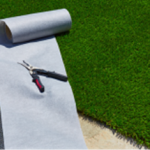 Glue Seams Together
When joining your seams, lay your single sided backing tape in the centre of the two pieces ensuring the silver backing of the tape down is facing onto the crushed rock/ base with the white side facing up. Place the two pieces of grass onto the tape, with each edge placed evenly in the centre of the tape. Remember to put pressure onto the seams once the grass has been joined to promote good adhesion.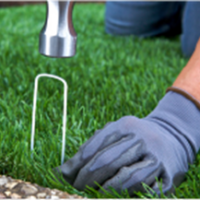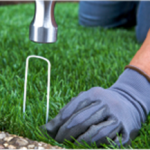 Secure in place
Once you have covered the complete area, nail all of the perimeters down at 500mm intervals using flat head nails or landscape pegs.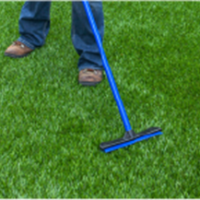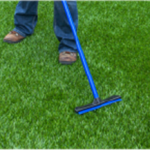 Groom Up The Grass!
Using a sand spreader, top dress the grass with an even distribution of dried silica sand fill to a depth of 15-20mm. A yard broom can be used at this stage to sweep in the sand evenly and to also brush the grass blades straight. Best to apply when the grass and infill are totally dry for even distribution and avoid lumpiness.
Synlawn Installation Video:
Key Points:
💚 Do not attempt to lift the grass by yourself. It is advised that the rolls be cut into manageable lengths before moving.
💚 Always run grass in the same direction.
💚 Refer to the Product Specification for recommended amount of mineral infill required.  You can find this under each product on          ShopONLine.
💚 This installation information has been supplied as a reference guide only. Artifical Grass Warranties do not cover installation.
Sun Reflection:
The SGW artificial grass range is designed to withstand our harsh Australian climate to normal surface temperatures of approximately 65-75C. If the temperature increases above melting point the turf fibres will begin to shrink and eventually disintegrate or melt completely. This can occur if sunlight is reflected off surfaces such as doors, windows, polished gutters, mirrors, reflective panels or any other surface which can reflect sunlight onto your turf.
To avoid this we recommend that, if possible, you avoid laying you turf directly up against a reflective surface by creating a 100cm border between them. Other suggestions include (again where possible) covering windows with a screen or awning, using non-reflective paint on shiny surfaces like gutters and drainpipes or adjusting the angle of any reflective panels or mirrors.
If the reflection is occurring from another building, you may need to find an alternative for that particular patch of affected area eg a soiled area with a small tree or plants, pebbled rocks or a pond.