Sprint Track Weighted Sleigh Track or Crossfit Track
Ready to attract new clients to your gym? Let Artificial Grass Shop (AGS)  custom design a  Sprint Track that is exclusive to your brand and/or unique to your training philosophy.
AGS custom designed Sprint Tracks come with tufted line markings in a high density turf that can with stand the demands of exercises on the floor, including sprints or training with a weighted sled.  No more problems with seam stress, all line markings and  your logo are tufted into the carpet.  The Track can easily be applied to a hard surface.

Choose your dimensions (min order 1m w x 10m long)
Choose or create your design (lining and fonts)
What colours would you like?
And your Logo? Where do you want your logo?
Keep it Simple? We have 'Off The Shelf ' Tracks Ready To Ship
This link takes you to our OnlineShop where you can purchase an 'off the shelf sprint track' 1.2 x 10-15m in a choice of primary colours.  Comes with line markings, numbers already tufted in.  All you need to do is choose your colour and add your logo!  Contact our office for more information here ➡ Find Out More
Crossfit Synthetic Grass
Does your gym have tired un-inspiring rubber or concrete floors that can potentially cause injury to your clients with high impact training?
Fortunately, AGS can provide quality synthetic grass and impact tiles for cross fit gyms. Our specialists can help transform your gym into an aesthetically pleasing workout area that can help motivate your clients with their training exercises and help boost overall performance. You can rely on us to help your gym stand out from the crowd and increase your customer base!
Cross fit training programs involve high intensity workouts that focus on agility, flexibility, balance and power. The type of turf cross fit athletes train on can have a significant impact on the accuracy of their movements and their overall performance.
Coolplay 23mm
There are several reasons why you should consider using Coolplay 23mm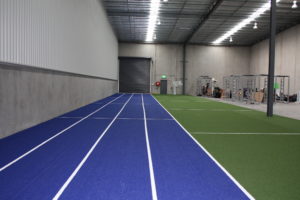 synthetic turf for cross fit gyms, some of which include:
Provides a professional appearance, makes your gym look clean and inviting, brightening up any gym area,  mentally stimulating your clients for a serious gym work out!
Resists wear and tear, no maintenance.  Warm soapy water for any stains or spillages.
Offers a stable and reliable surface for athletes performing high intensity workouts.
Double latex backed which enhances longevity, helps absorb and reduce noise impact.
Yarn has built in slip resistance, ideal for sprints and other joint-intensive activities
Shop On Line Now this link takes you directly to the gym synthetic grass shop.
For tailored solutions including custom sprint tracks, line marking and Impact Tiles call the team at AGS 9830 8646 to discuss your specific requirements or select link below to email inquiry.